Une partie de mes projets tournent autour de la technologie Cisco, le temps me manque juste pour bloguer autant que pour du Microsoft.
Petit probleme vu chez un clients dernierement.
Contexte:
Le client ajoute un deuxieme serveur IM and Presence, tous les services démarres exceptés le Presence Engine.
Résolution:
Connectez vous dans le menu de navigation Cisco Unified CM Administration, et aller dans System > Presence Redundancy Groups.
Choisir le groupe approprié.
Sous la configuration "Presence Redundancy Group Configuration" , sélectionner le serveur IM and Presence venant d'etre ajouté.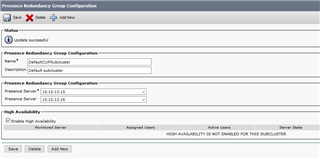 Redémarrer les serveurs IM and Presence.